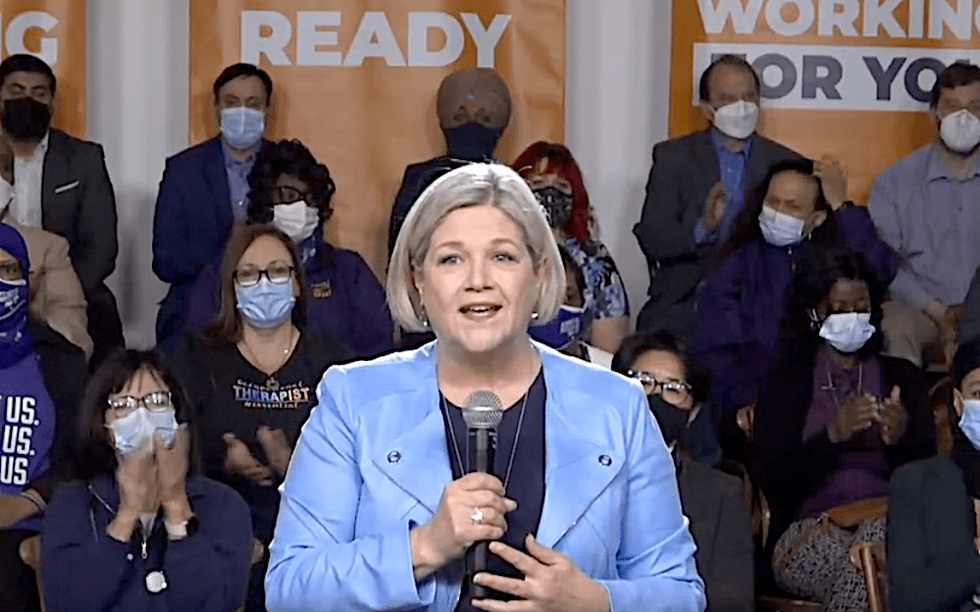 Ontario NDP Unveils Promising Rent Control and Down Payment Loan Platform
Written by
Laura Hanrahan
The Ontario NDP unveiled its full campaign platform Monday at an event in Toronto's Distillery District, reiterating several housing-related promises the party previously made.
The housing section of the platform largely reaffirmed the policies put forward in the provincial party's Homes You Can Afford plan, released in November 2020. Important elements included the reintroduction of "real rent control", the creation of a new provincial speculation and vacancy tax program, and an equity loan program to help finance down payments for first-time home buyers.
"We're going to tackle the cost of living," Ontario NDP Leader Andrea Horwath told the crowd. "Make sure you don't have to pay for necessities like prescription drugs and dental care. Go after the speculators who drive up housing costs for everyone. We're going to build more affordable homes and help people pay their down payment so they can buy their first home. We're going to control skyrocketing rents and protect tenants, and we're going to make sure people have good jobs that pay the bills.
Horwath pledged to end loopholes in Ontario's rent control regulations, including the removal of vacancy control, which means landlords could no longer increase rents beyond annual guidelines when the unit becomes vacant between tenants. According to the NDP, this will eliminate financial incentives for landlords to evict tenants and ensure that tenants pay what the previous tenant paid.
For those struggling to pay rent, the NDP has proposed the creation of a portable housing allowance to help tenants who cannot afford to pay rent on top of all their other necessities. This benefit is expected to help 311,000 households across the province.
The NDP platform also calls for an end to exclusionary zoning in Ontario as a way to increase the supply of affordable housing. According to the NDP, this will be done by "updating zoning rules to allow for the construction of more affordable 'missing middle' housing, such as duplexes, triplexes and townhouses." The party also pledged to build 69,000 new affordable homes over the next decade, as well as 30,000 new supported homes.
"We've seen the health-related homelessness crisis spin out of control, and we know market housing is simply not meeting the needs of the most vulnerable people in our communities," Horwath said. "People have to stay housed. People with mental health issues, who are struggling with addiction issues, providing them with supports so they can stay housed is how we're going to be able to make sure they don't end up in the street like a revolving door situation. It's the human thing to do.
To combat growing home unaffordability, the NDP plans to create a co-loan program that would offer first-time home buyers with household incomes below $200,000 a loan of up to 10% of the value of their home. 'a house. Loan repayments would only be due when the owner sold or moved, and the owner would have the option to buy out the government share at any time.
While $200,000 might seem like a high threshold, Horwath says even households with that income are having trouble buying a home in Ontario's current market.
"I would say a lot of people around that family income, or rather, around that personal income level, consider themselves middle class," Horwath said. "People around $200,000 are having a hard time buying a house these days. Let's face it, you could be making $150-200,000 a year and not be able to pay your bills and put away the money you want to buy your own house.
The Ontario NDP platform also included a wide range of other campaign promises, including accelerating universal pharmacare, hiring 30,000 nurses and an income tax freeze. for low and middle income households. An expanded sick leave policy, a $20 minimum wage by 2026, and electoral reform with a "mixed member proportional voting system" are also on the table.
None of the other Ontario parties have yet said when they will release their full campaign platforms.
Written by
Laura Hanrahan
Laura has covered real estate in Toronto, New York, Miami and Los Angeles. Before coming to STOREYS as an editor, she worked as an urbanized editor in Toronto for Daily Hive.
More from the author