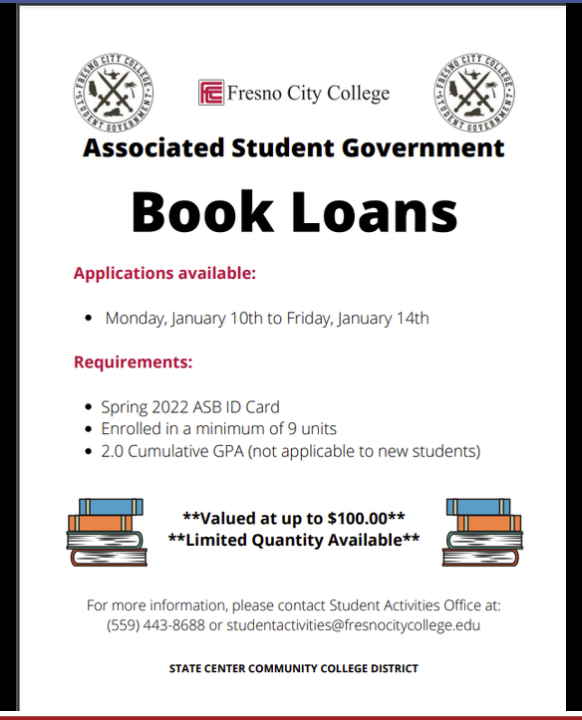 ASG lends a hand, offers book loans – The Rampage Online
Associated Student Government at Fresno City College is again offering a book loan to help defray the cost of books for approved students.
Once per semester, ASG provides a $100 book loan to students in need. Each student receives a credit of up to $100 which is redeemable at the FCC Bookstore for required textbooks.
The requirements to apply are to be thregistered at least nine units, current ASB ID, with a minimum cumulative GPA of 2.0.
New FCC students applying are excluded from the GPA requirement.
Loans for Spring 2022 have ended, but students interested in loaning books for future semesters can find requests at the Student Services Office, located in the student lounge next to the cafeteria.
Students who have received the loan have one month to repay their balance to ASG, where it is then placed in a revolving fund account for subsequent semester book loans.
First-year FCC student Maynhia Thao said she was unaware that ASG offered a loan of books to students.
"I think it's good to know there's always another option to buy books if students aren't able to qualify for financial aid," she said.
Although book lending has been around for at least 15 years and applies to all eligible students, it's on a first-come, first-served basis.
FCC Student Services Office Specialist Heather Gray said six students applied for and received loans this semester. In a typical year, Gray said about 20 students would apply.
She thinks the number of applications will increase when more in-person classes return.
"We [Student Services staff] hope that as more students return to campus, there will be more students who can take advantage of this loan," Gray said.
Students with questions can contact the Student Services Center by phone: (559)-443-8688 or by email at [email protected]